This page is my digital notebook, bulletin board and sketchpad. A place to jot down what I am reading about, thinking about, and working on. A place to post random cool and interesting things I stumble upon or to share resources about important global challenges. A place to share sketches and diagrams on index cards and napkins.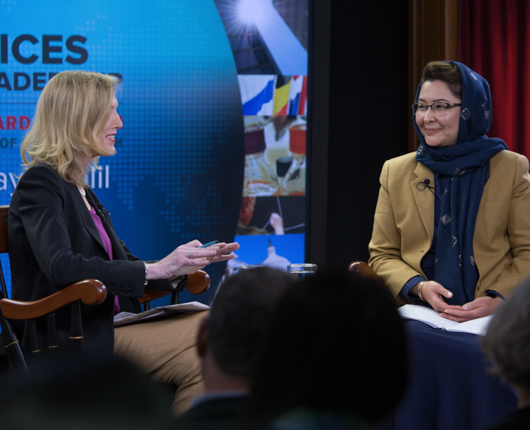 A Conversation with Dr. Suraya Dalil
I had the privilege of interviewing Dr. Suraya Dalil, former Minister of Public Health for Afghanistan, and a woman I consider a colleague, role model, and friend. Her elegant narrative of a lifetime of challenges intertwined with profound moments of optimism exudes principled passion, unwavering commitment, and an infectious hope for Afghanistan's future. Our conversation was part of the "Voices in Leadership" series at the Harvard Chan School of Public Health. Read blog posting and news.
Unnoticed Deregulation
Progressive deregulation under the Trump administration has largely gone unnoticed amidst the political drama of the daily news. But acts like the Stream Protection Rule, requiring mining companies to track and restore streams that have been polluted by their activities, are already having consequences. Read about the public health dangers facing Appalachian coal communities. There was a time the United States had virtually no federal protection for our natural resources, but scientific evidence documenting the consequences to human health drove numerous acts to protect the environment. and hold industry and corporations accountable. The public health community cannot afford to be silent. This issue, like gun control, is squarely "within our lane".
Venezuela Refugee Crisis
The 2019 Preventive Priorities Survey published by the Council on Foreign Relations got it right when it predicted a worsening situation in Venezuela as a result of a triad of economic, political and social crises. A recent report on the complex emergency documents catastrophic hospital closures, lack of essential medicines, and virtually nonexistent health services. While neighboring Colombia is host to more than one million refugees, their capacity to absorb many more is limited. Richard Haass asked in a recent op-ed, "How much worse do things in Venezuela have to become before the world would be prepared to act?" I could not agree more.
Screening Blood Supply for Zika?
In 2016, universal individual donation nucleic acid testing of donated blood for Zika virus began in U.S. states and territories. A recent analysis shows that the only strategy that would be less than $100,000 per QALY would be screening in Puerto Rico with universal mini-pooling nucleic acid testing. No strategy was cost-effective in all 50 states. Educators might want to use this analysis as an example of a microsimulation model (selected to reflect the heterogeneity in the transfusion recipient population) and/or to motivate a debate about U.S. policy which, thus far, has not modified screening protocols once in place for the transfusion supply. I plan to use this example in my online class on decisision science for graduate students in public health - will post the video. Stay tuned!
Making the Effort
Check out a new short film by Jake Waxman as he follows Dean Cardinale, Founder and President of the Human Outreach Project, through rural Peru, from Pashpa to Huaripampa. Discover how respect, effort, and attention can change a communities life forever.
Animation: The SDGs
I created this quick animation for my undergraduate students in SW24: Is Globalization Good or Bad for Health? to review the Sustainable Development Goals as set forth by the United Nations General Assembly.