ABOUT SUE
More About Sue
This page is my personal bulletin board and media album. A place to share who I am, what I care about, what I am doing, and whom I am doing it with.
---
The Path
A glimpse into the early development of a concept documentary. This short clip produced by Jake Waxman subtly reveals the role and influence of Tae Kwon Do in my life. The informal clip was designed as a prototype of how I might share intimate vulnerabilities while preserving a sense of privacy.
A Ten Year Partnership
For more than ten years I had the honor of serving as the board chair of the Human Outreach Project (HOP) and working with Dean Cardinale, the president and founder. HOP is a 501(c)(3) non-profit conceived on the premise that trekkers could – and should – give back to the communities in which they travel. HOP works in areas surrounding World Wide Trekking expedition sites in remote areas of Tanzania, Nepal, Peru and at home in Utah. With a particular focus on youth, they partner with communities to identify local needs and co-create sustainable solutions to improve health and education. Read the 2017 annual report.
Dean Cardinale (President), Ray Massae and I review plans for 2018 with Abel, our local construction engineer.
Ray Massae (Operations Manager for Tanzania) and I discuss repairs needed for the vehicle used to transport kids to school.
Piloting exercises that combine design thinking with geometry with the kids and correlating observations with school performance.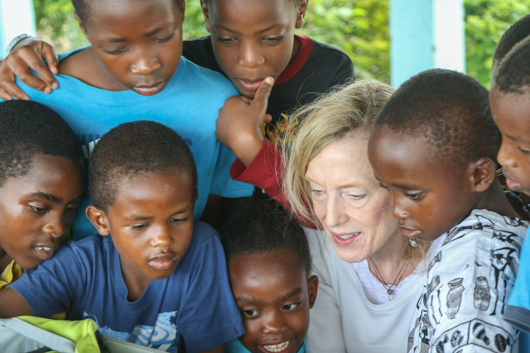 Working on developing interactive bilingual reading exercises with the kids - they provided lots of great feedback on prototypes!
Summer 2017 Checkups
During my second trip to Tanzania last summer, Aaron and I overlapped by two days before he climbed Kili, where we had an amazing time with the kids and staff at the KKC. We used this trip to establish a medical record system and conduct physical exams for the kids and staff. The kids were excited to be active participants, helping with vital signs, charting growth and weight, and even creating a makeshift health clinic with a mattress and favorite purple pillow! Aaron used video optometry to make digital files for each child, to facilitate follow-up, and to serve as a comparator for next year's annual exam—the kids were fascinated to see their inner ears on a video screen!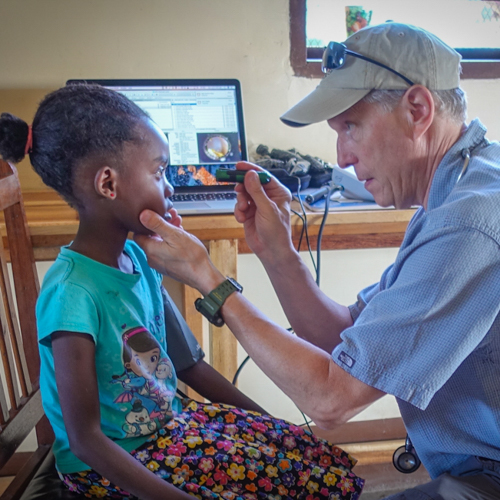 Dr. Aaron Waxman leaves the intensive care unit at the Brigham for more important tasks!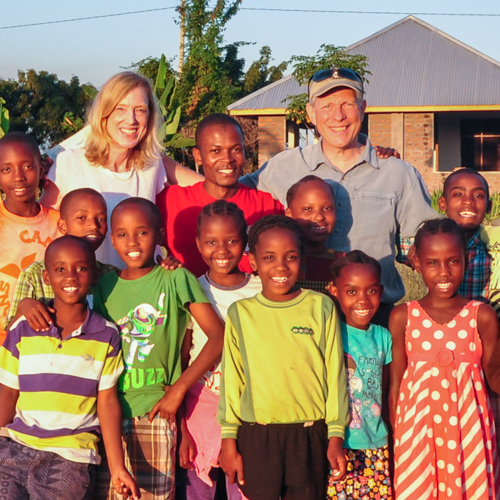 Aaron, Robert and I take one final shot with the kids, as the sun sets in the background.
Robert and I did vision screening and all kids passed with flying colors!
Building a Health Record System
A highlight of both my trips to Tanzania this summer was spending time with my good friend Claudia, a remarkable woman who has cared for the children living at the KKC from day one. Claudia and I went over every child's handwritten records, some on scraps of paper, and assembled digital files and portable records that were more suitable for the staff. We had a chance to talk at length about the accomplishments of the past year, the challenges ahead, and her hopes and fears for the future. I left, as always, wishing I could do more.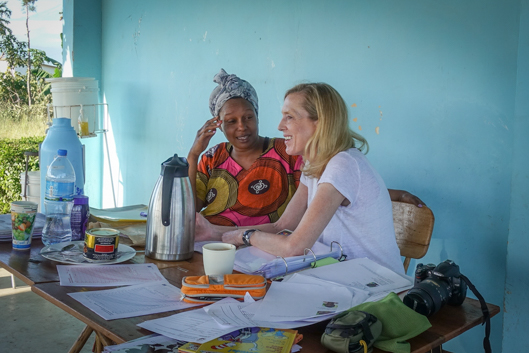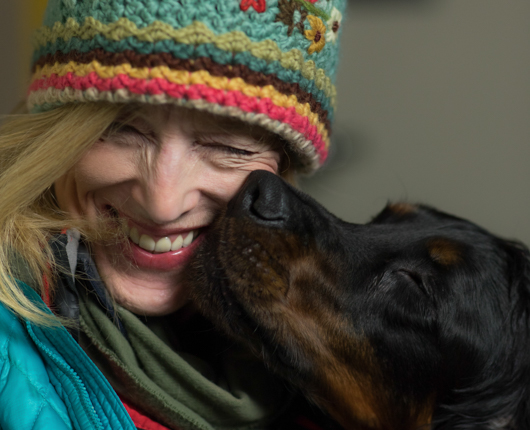 Behr, our 3 year old gordon setter, has bonded after a year with his new family!
Riley, our 5 year old golden, shows Behr how shopping is handled....with patience!
Something about time with my dogs that makes me really really happy....
On the top of the list for favorite moments....
About to launch into Elevator at Snowbird...
Aaron headed for day in Utah backcountry...